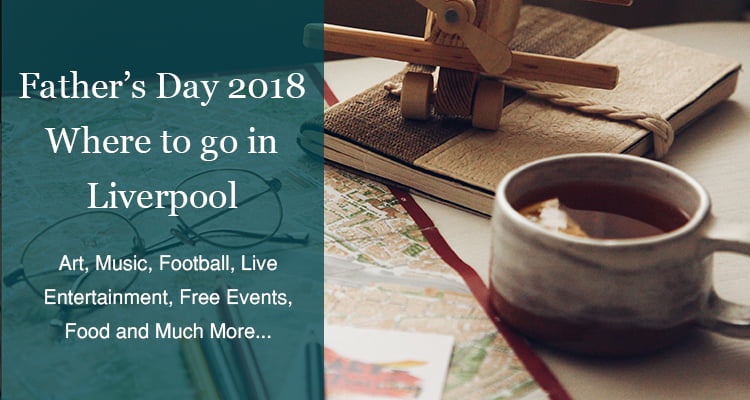 Find the best places to take your Dad this Father's Day and the most exciting activities in Liverpool 2018.
There is always something happening in this lively city, it is just finding them and organisation that is sometimes the issue…
We created this simple guide, so you can easily plan the best day possible for you and your family. Navigate your way through with our contents section:
For the art lover…

Did you know that there are more museums and galleries in Liverpool than any UK city other than the capital?
So, if your dad has a creative eye or an artistic flare, take full advantage of what this cultured city has to offer…
Tate Liverpool Exhibitions on 17th June
30th March – 17th June 2018 (Free entry)
After opening the influential gallery in 1988, Tate Liverpool turns 30 this year. Of course, they are celebrating in style with an exclusive exhibition selected by Ken Simmons.
Ken has cared for every single piece of art to enter the Tate Liverpool door since its opening day. So, who better to select some astounding highlights from its impressive history.
Explore this fascinating Art handler's favourite pieces, including work from his particular interest in sculptural and landscape art.
22nd September 2017 – 17th June 2018 (Free entry)
Roy Lichtenstein is a New York artist who is known for painting, sculpting and printmaking. He gained worldwide attention in the 60s after exhibiting painting based on comic book strips. For many, this is his most instantly recognisable work.
Explore his artistic journey from his early interest in landscape to his most iconic pieces in later life. This is a rare opportunity to view his work in the North of England and is certainly an event to mark your calendar for.
24th May – 23rd September 2018 (£12.50 – free for members)
The work of American photographer Francesca Woodman and Austrian painter Egon Schiele come together to create an intense exhibition that offers a new perspective on their powerful art.
The two artists are both known for their personal portraits that are uniquely raw, striking and to some, shocking.
This compelling collaboration is not an exhibition to miss with deeply personal pieces that will leave a lasting impression.
Sunday 17th June 2018 1pm – 3pm (Free event)
Looking for something more hands on?
Enjoy a fascinating introduction to the working technique of L.S Lowry and then a chance to master your own creation in the style of this Northern painter.
He is best known for his industrial landscapes of Lancashire, Salford and the surrounding areas.
All materials will be supplied by Walker Art Gallery and you can take home the artistic final result.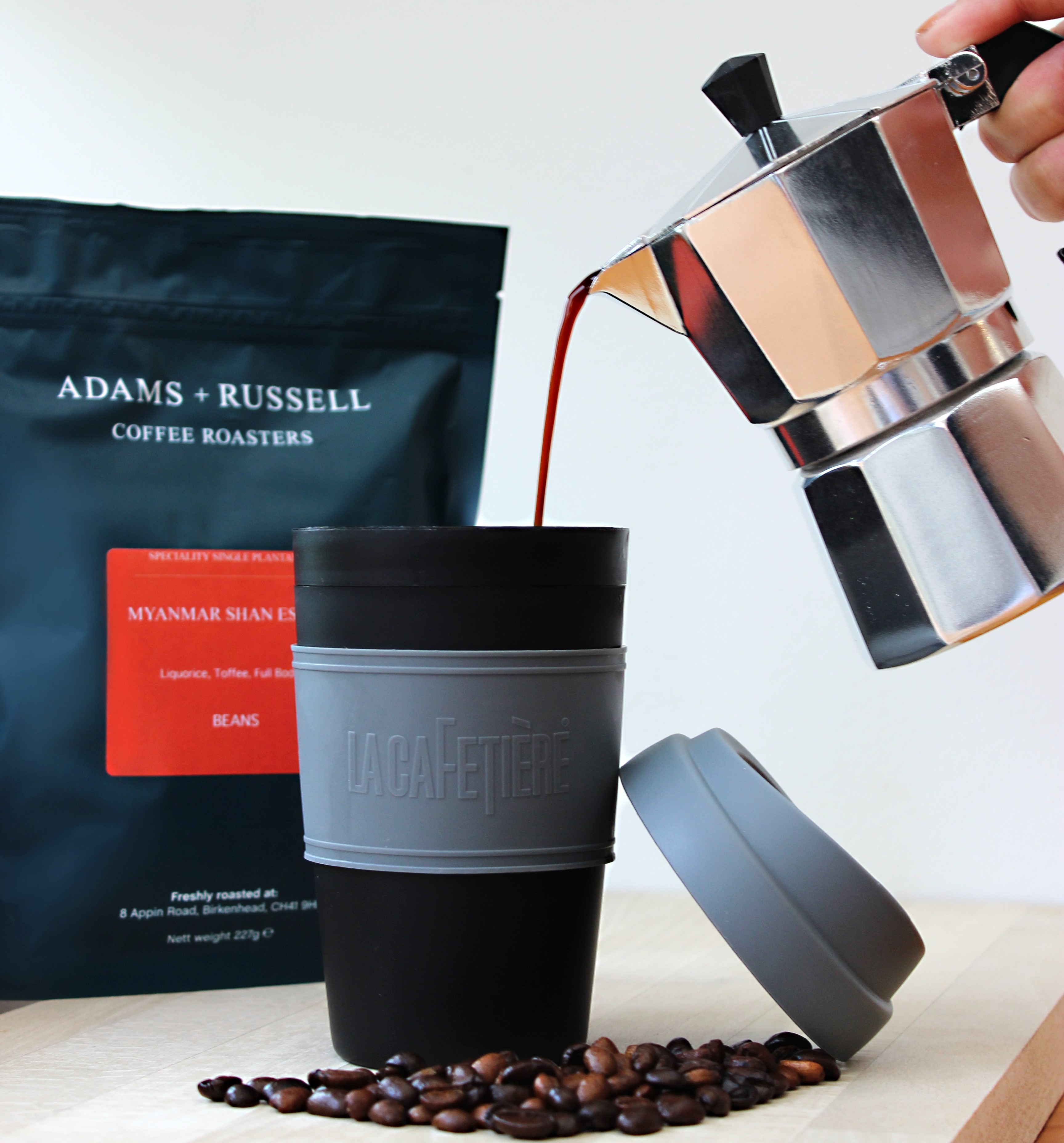 A special gift set for Father's Day this year
This unique coffee gift set includes everything your dad will need to brew a delicious cup of coffee. Receive a stylish La Cafetiere travel mug, an authentic Italian stove top espresso maker and a fresh bag of premium Myanmar Shan Estate coffee beans.

For music lovers…

Due to its extraordinary amount of number one records to have come from the city, Liverpool was crowned 'City of Pop' by the Guinness Book of Records in 2001.
However, it isn't just toe-tapping tunes that the city is famous for. It also has an incredibly popular history of classical music, so there is plenty of options for everyone this Father's Day.
Sunday 17th June 2018 (Free/ £25.50)
The International Guitar Festival of Great Britain is a month of great music that showcases the versatility and vast range of the guitar throughout history and genres.
There are many events for all types of music tastes throughout June which can be viewed on their Facebook page.
On Father's Day, choose from a free Steve Oakes Trio concert or 'The True Story of Jimi Hendrix by his brother Leon Hendrix' for £25.50 a ticket. The two events both take place in the Floral Pavilion Theatre in Wirral.
Thursday 14th June and Friday 15th June (£15 – £44)
Alpesh Chauhan is joined by rising star Pablo Ferrández to take you through a journey of classical music from 18th century Austria, a Hollywood thriller and the world-renowned Beethoven's Fifth Symphony.
This is the perfect treat for any dad that appreciates the beauty of classical music. Be transported through the centuries of the most influential composers in the world and enjoy the true talent of the live instrumentalists.
Saturday 16th June 2018 (£45 – £58.50)
Jeff Beck, known as the 'guitarist's guitarist' has won many awards and prestigious titles in his career. To name a few, he was ranked fifth in Rolling Stone's list of the "100 Greatest Guitarists of All Time" and was described as "one of the most influential lead guitarists in rock".
He has received Grammy's, a British Academy Award, and many more well-deserved honours. He has been a part of bands such as The Yardbirds, Jeff Beck Group, Beck and Bogert & Appice.
This is his first solo UK tour since 2014 and will be a night to remember.
Sunday 17th June 2018 (£7.50 – £20)
Maghull Wind Orchestra celebrate their 40th anniversary with a joyful afternoon of magical music from award-winning composers.
A range of new and old music will be included, as well as exclusive never played before pieces. This is an incredibly inclusive event that will appeal to a wide variety of music tastes, perfect for the whole family!
For the football fans…

If you're stuck for gift inspiration this year, an afternoon of football history is the perfect day out for you and your dad.
14th June – 15th July 2018 (Free/ £10)
Accompanying one of the biggest football events in the world, the 2018 FIFA World Cup, 'The Art of Football' is showcasing the past, present and future of the game and how it unites us.
There are many exhibitions to visit throughout the month, including:
Common Ground – An exhibition of work from three photographers showing the development from the game of the working class in the 1980s to the riches of the Premier League today.
The Art of the Football Shirt – Fashion historian Neal Heard explores the relationship between football and pop culture through his exhibition of over 100 fascinating football shirts.
I Don't Love Soccer Because Soccer Has Never Loved Me – World renowned graphic designers showcase their perspective of football through an artistic lens.
Terrace Tapestries – Liverpool banner artist Peter Carney is working with residents, community organisations and schools across the city to design and parade the banner artworks through Liverpool.
Live entertainment…

From laugh out loud moments, live music and exciting drama, you are spoilt for choice with live entertainment in Liverpool. Here are the top picks for Father's Day…
16th June – 14th July 2018 (£10 – £32)
As the bomb drops in 1940, Peer Gynt is born. Being 'a lad with big dreams', this story takes you through his life and his attempts to make a name for himself.
Described as 'a life flashing before your eyes', there is never a dull moment in this exhilarating production.
This talented cast includes Richard Bremmer, Patrick Brennan, Emma Bispham, Marc Elliott and many more accomplished actors and actresses.
Tuesday 12th June 2018 (£27.50 – £33.50)
Bill Bailey is an award-winning comedian that has had remarkable careers as a musician, writer, author, director, presenter and actor.
He is visiting the Liverpool Philharmonic Hall this June to bring his intelligent and witty act to the city.
However, expect a lot more than your usual run-of-the-mill comedy night. Enjoy a surreal evening of music, unexpected tangents and trademark quick wit as he tackles an array of subjects from politics, philosophy and his real-life experiences in show business.
Free places to visit in Liverpool…

https://www.youtube.com/watch?v=AmQvtEzy8JU
Crosby Beach is the perfect way to start or finish an activity-filled day with your family.
It is now the permanent home to the sculptures 'Another Place' by Antony Gormley. This collection features 100 cast iron figures across the beach which all face towards the sea.
Keep Britain Tidy awarded Crosby Beach the Quality Coast Award and states that it has the highest quality management standards in the UK.
The Makers Market will be visiting Hope Street on Sunday 17th June from 11am to 4pm.
This unique market allows you to 'eat, drink, taste, shop, socialise, relax, watch, listen, enjoy and discover', according to their website.
You will certainly be spoilt for choice at the Makers Market and there is something to please everyone in your family.
The beautiful parks of Liverpool
When planning a day out in Liverpool, it is sometimes easy to forget the many charming parks that the city has to offer.
If you're not lucky enough to have sunny weather, there are always some fun activities happening in the local communities.
Find your nearest park on the Liverpool City Council's website or take a look at this list of the 22 best parks in Liverpool.
On the third Saturday of every month, Garthdale Road hosts a farmer's market with plenty of fresh produce from the local community.
It will be held on Saturday 16th June from 9am to 2pm, which is perfect to shop for some fresh produce just in time for Father's Day. Why not buy some local sausages and bacon and surprise your dad with a homemade breakfast?
Delicious food and drink aren't the only products on offer at this Farmers market. There are also plenty of plants and flowers to browse, which could be the perfect gift for any dad that has a green thumb.
Food for Father's Day…

There are so many amazing cafes, restaurants and street food stalls in Liverpool, it can sometimes seem an impossible task to choose somewhere to visit. We've whittled it down for you and found some great options for Father's Day…
Sit back, relax and enjoy a delicious full English breakfast at Marmalade Skies. Start off with fresh pastries and a wide selection of fruit upon arrival before being served your hot breakfast.
Vegetarian, vegan, gluten free and Slimmer's World options are available upon request. Take it easy this Father's Day and treat your family to a freshly cooked breakfast.
Juice, tea and coffee are all provided and there will even be a craft table for children to make a card and gift for their Dad. Tickets are £15 for adults and £8 for children and need to be booked in advance through marmaladeskiestearooms@gmail.com.
The Baltic Market is the perfect stop to enjoy some lunch with your Dad this year. There are plenty of stalls offering food such as Italian, Chinese, specialist fried chicken, vegetarian, vegan, desserts, Mexican and much more.
Open 11am – 9pm on a Sunday with on-site parking.
With over 440 five-star reviews on trip advisor, this is an eatery you don't want to miss.
The Cow Shed states they were born from their love of beef, and especially steaks. Not only are the staff warm and welcoming, but they are also experts on beef and give excellent recommendations.
The restaurant also has some delicious options for vegans and vegetarians and offers an extensive drinks menu with some delicious cocktails.